GoToMyPC is the fast, easy and secure way to access and control your computer from any Web browser, anywhere. How It Works.



TELEWORK: Use your office computer from home, easily and securely, with just an Internet connection.



TRAVEL: Access and use your computer from hotels, airports, satellite offices, Internet cafes – anywhere with Web access.



LAST-MINUTE ACCESS: Get that file or email you left at the office from anywhere, anytime.



See why GoToMyPC is revolutionizing the way people work remotely: Register and download it now.



Complete Satisfaction Guarantee: Pay nothing for this risk-free, full-functioning trial or continue the service for as little as $9.95/Month. Pricing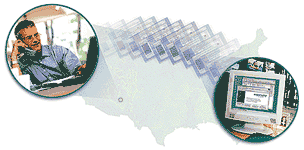 Corporate Plan Info: Click Here








Register Now and Download It Free!
Setup takes only 2 minutes.


Questions? Call Us Toll-free: (888) 259-3826.