1. Download — Register, download and install GoToMyPC on your Internet-connected host PC. The one-time install is fast and easy, and you can add additional PCs at any time. Setup takes only minutes.



2. Access — Remotely access your PC from any other computer with a Web browser at GoToMyPC. There is no additional software to install – a self-launching plug-in will allow you to see your host PC.



3. Work — Begin working on your host PC as if you were sitting in front of it. You can immediately access your e-mail, applications, documents and network resources.

Transfer files back and forth.
Print from your remote PC to a local printer.
Access your PC from another PC, Mac, Linux or Unix.
Invite others to share your PC to collaborate or do demos... and much more.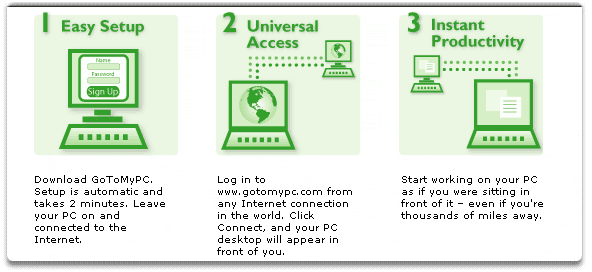 A Better Solution: In addition to flexible access from anywhere, GoToMyPC is far easier to install and use and has faster performance and file transfer capabilities than conventional remote control programs such as pcAnywhere. **verified by NSTL testing laboratories** It is an amazingly inexpensive and simple solution compared to other remote access technologies such as VPNs and RAS.

Try it for yourself and see!